Gallery 3 Thumbnails
"Hoc Nefas Est"
Jonathan Ninnyhammer, 1975
Housepaint and tarpaper on canvas
The most significant thing about this piece is the enthusiastic response it generates whenever it is seen in public. The viewer is helplessly drawn into its multiplicity of shapes: the demolition of the Berlin wall, Mao Zedong leading the Long March, a profile of Vladimir Putin smoking a meerschaum pipe, and Katherine Hepburn riding a bicycle through Central Park. As a turning point in his stuttering career this work allowed Ninnyhammer to consider transitioning into imagining and talking about, but never actually doing, the "Where's Waldo?" puzzles as well as large format tar paper collages which could have adorned the walls of roofing company offices nationwide.
K.L.
"Under the Walkways"
 
Munchie Farkelman, 2012
Acrylic on canvas
The artist Farkelman has taken a courageous leap into the realm of abstract landscapes with this daring new piece executed in positively blazing chroma. Sharp wedges, strong diagonals, and organic earth waves divide the canvas into symmetrical shapes that enchant the eye with an unapologetic dynamism. This work features two diagonal sky walkways that meet to form a large "V" from which hangs 8 vertical black structures vaguely reminiscent of inverted French lampposts. The walkways terminate in a softly rendered Naples yellow boomerang (we freely admit that we are suckers for boomerangs!) and seem to support naked dangling tree roots that lend the piece a charming naturalistic element. We find it curious though, that the artist has chosen to sign his work rather unconventionally in the upper left corner.
K.L.
"Until the End of the World"
Eric Oneiric, 2007
Acrylic paint applied with a great moaning and gnashing of teeth, kidney sourced egesta, bitter tears from a holy wellspring
This intriguing and architecturally robust piece was created following the artist's near death experience from a head injury on an amusement park ride. When asked to explain this work, he said that these were recently passed souls who had marched from the shores of Tripoli and were headed to the halls of Montezuma. He had used a lot of yellow to represent their need to pee but they couldn't because they were in Purgatory for the expiation of their earthly sins. They'd never reach the bathrooms and they couldn't pee behind the pillars because St. Peter was keeping an eye on them and would caste them into hell if he caught them. Above them on the arching structures is where the pure souls went on a fast track to heaven, which was in the tall towers in the background.
K.L.
"It's Never Too Late"
Sister Augusta Mimsey, 2016
Third-rate pigments mixed with Big Bird's uropygial gland secretions on canvas
A lifetime of repressed sexual desire is explored in this work of resigned loneliness and hopeless voyeurism. In a painting replete with phalli of many sizes and shapes the viewer senses the desperate intensity of a withered old nun's piercing gaze. Leaving the convent upon retirement, and after having first visited the adult novelty boutique, the old girl's next stop was the local lovers' lane where she indulged in some hardcore titillation. Then it was on to the candy store to buy chocolate, lots of chocolate. We eagerly look forward to more artistic explorations from the sensual powder keg that is Sister Mimsey.
K.L.
"Mercury Rain"
Kurt Mayo
Watercolors, broken thermometers
Mayo was renowned for his skill with realistically depicting various liquids. Usually quite hard to portray, he developed a brush technique that allowed him to convincingly paint the beautiful, controlled chaos of spilling fluids. He was not very good at drawing horses though. The legs never looked right.
Spencer Bainbridge, Art Historialogian
"It is the Only Way/Thorn 1"
General Galantinissimo Gilmour, 2015
A slurry of subsurface silica, red hiparrion ash and repurposed manteca on canvas
We must all consent to become one of the people, worship the creator, and agree to the insertion of the instrument of obedience. Resistance is futile.
K.L.
"Bach's Universe"
Testy McTesterson, 2000
Acrylic on canvas
"Sometimes, I sit alone under the stars and think of the galaxies inside my heart, and truly wonder if anyone will ever want to make sense of all that I am."
Testy McTesterson
"Ripe Refuge"
Preston Puckerson, M.D. 2000
Oil on canvas
Salvaged from the dumpster of a Marin County proctology office that was being remodeled, this lovely piece was too yummy for us to pass up. The soft rendering of the plump juice sacs that circle the gaping aperture speak to us of a pliant acceptance and a quiet escape from a crazy world. The juxtaposing of the massive berry (the painting is 10'x10') and the ethereal blueness it floats in creates an undeniable tension on the canvas. We found the artist walking to and fro from the dumpster so we asked him to help us understand his extraordinary piece. Dr. Puckerson only sighed and said that the painting was responsible for collapsing the wall in his office as well as his 30-year marriage. "She was a very unyielding, retentive, woman! She hated my big fruity pictures," he said.
K.L.
"Pleased With Himself"
Finn Gersfreezin, 1968
Acrylic on reindeer hide
This historic painting documents the very first Olympic competitor in the controversial sport of Icelandic Downhill Banana Skiing. In a narrow field of competitors, the athlete grins in keen anticipation of a gold medal knowing that he will never have to return to his day job as a line cook at McDonalds. It is said by many in the art world that the talented artist Gersfreezin, due to the loss of two digits on his right hand, was forced to retire from painting after this last attempt at capturing downhill racers in subzero temperatures.
K.L.
"Rough Men Like it Rough"
Herbut Slammer, 1989
Acrylic, black felt tip on Masonite
Inspired by the legendary Oakland Raiders football club, the gifted sports artist, Herbut Slammer, masterfully portrays the violent nature of a game played by bold, powerful men on a muddy gridiron in front of thousands of adoring fans. With impressionistic flair this timeless piece immerses us in the chaos of the moment as our hero, against a backdrop of suspended blood, mucous and vomit, leaps athletically over his vanquished opponents; Leading with his prosthetic right foot he narrowly misses what appears to be a roiling pool of feces and mangled body parts. The featureless face silently challenges us to consider the oppressive dichotomy of a grunting, struggling masculinity versus a righteous desire to soar above it all. It is ultimately the artist's boldness and uncompromising vision that takes this masterpiece down the field and into the end zone.
A.O.
"The Guitarist"
Ritter Friedricks, 1999
Colored pencil on paper
This sensitively rendered portrait of Michael Jackson and "Weird Al" Yankovic's love child mysteriously turned up in a Jackson, California thrift store. In this quietly secluded foothill town, Friedricks, the "Artist For the Stars," maintains a studio where the portraits of many Hollywood love children adorn the walls. This elegantly understated work touchingly captures, despite his boneless right hand and balancing on a one legged stool, a talented young man's great determination to display the musical talents he has inherited from his world famous parents. The early stages of vitiligo and a laid-back So Cal fashion sense are proof positive of his lineage.
K.L.
"Winkelpicker's Epiphany / Erections in the Sun"
Rutherford Winkelpicker, 2001
Acrylic on canvas board
In this deeply existential piece, the soon to be up and coming artist Rutherford Winkelpicker confronts the enormity of the realization that his existence means absolutely nothing to anyone, not even his mother or his dog. The resulting emotional tsunami threatens to sweep him from his little perch at the nude beach where he has gone, desperately searching for a quick hook-up. With expert brush strokes and masterly use of deep watery greens, luscious pinks and passionate purples Winkelpicker leaves the unsuspecting viewer speechless and gasping for the higher ground of emotional detachment… and worrying a bit too at the thought of his sunburned tender bits.
K.L.
"Wake Up, Eat, Poop, Sleep, Repeat"
Artist Unknown, 1994 give or take 10 years
Acrylic on canvas
Groggy from a 17 hour nap Mr. Spunky awakes and contemplates his most important life challenges: should he lick his tail, lick his testicles or taste some of the clove studded Christmas ham he lays on? Through the miserly use of paints and the enthusiastic emphasis on clove dots, our unknown artist has masterfully captured the everyday dilemmas that face America's aging tomcats while causing us to long for glazed yams. You know - the kind with toasted marshmallows, all puffy on top.
K.L.
"Portrait of Benji Boy"
Pinkney Higgins, 1955
Watercolor on gessoed paper
Good fortune smiled on us when we found one of the early works of nationally known pet portrait artist, Pinkney Higgins. The eclectically original brushwork, later to become the signature of this great artist, can be seen in its infancy stage in this absolutely adorable work. In true freewheeling Pinkney style we can't tell if the cock-eyed little doggie is lying in a taco lettuce nest or trapped between the squeezing knees of its teasing owner. And we must ask ourselves why Pinkney decided to paint its body blue while topping it with a brown head that seems to be turning, "Excorcist"- like, completely around! It's up to us to figure it out, but we don' care because it's all part of the fun when viewing this frenetic little masterpiece.
K.L.
"Reflections on Coors Light"
Max Schwanz, 1984
Acrylic on board
Renowned colorblind artist Max Schwanz of the Van Horn Art Institute for the Visually Impaired once again shines with this masterpiece studying his attempts to become intoxicated drinking only Coors Light Beer. The Rocky Mt landscape seen on the Coors logo overlooks a serene valley of striking blue and red trees, punctuated by a river of Pepto Bismol, a metaphor for the stomach problems that result from drinking 50 Coors Light per day in a futile attempt to get drunk. His river of pink slime would eventually inspire the same river in the American motion picture, Ghostbusters 2. Sadly Max would not live to see his pink slime river come to life as he tragically passed away in 1985, not from alcohol poisoning, but rather water intoxication from his steady diet of Coors Light.
Kevin Jones
"Scallions in the Yoni Patch"
Ti. Fitzgerald, 2001
Acrylic on canvas
It is unclear whether these are arthritic green scallions or sexless Martian garden sprites that skip joylessly around the mint green diamond in Ti. Fitzgerald's feeble attempt at symbolism. The reoccurring diamond format seen in this painting recalls the artist's talentless career in major league baseball while the gaping blue center refers to the tremendous depression suffered, having never made it off the bench. This pathetic attempt at self-expression is hobbled by the basic blue green color theme on a bilaterally symmetrical canvas of simplistic boredom. It begs the question: Will he ever succeed at anything he does? Don't quit your day job, Ti. On Second thought, there may be a job for you writing shallow, meaningless Hallmark sympathy cards.
K.L.
"A Day in the Country / Breaking and Entering"
Simon Zoto, 1930s
Oil on canvas
In this nightmarishly disturbing piece, semi well known American folk artist Zoto sets the scene with a saccharinely sweet pastel sunset glowing over a carefree farmyard. But even as the sun sinks in the West, this country scene fairly seethes with subtle sinister undertones. Are we actually witnessing the unfolding of an Amish farm tragedy? Having spent a lovely day at the local market an unsuspecting couple arrives home only to find their door being forced by a couple of Khmer Rouge soldiers who have somehow drastically lost their way. Zoto builds the tension as he juxtaposes the innocently skipping/tight rope walking couple approaching the drama on a sweet pink path. Will they arrive to find the front lawn bathed in blood and body parts? Or will the Communist soldiers be charmed into passivity by a piece of good ol' fashioned homemade apple pie and coffee? The suspense is hair-raising, but we endure it because Zoto is, well… kind of famous.
K.L.
"Aunt Marge's Garden"
Ballin Jain, 1990
Acrylic on canvas
Breathe the night garden ether as the earth exhales beneath you. Earthworms slide by while crickets pulse and you submit, face down, in the cool grass. Are you lost in an entheogenic moment of a David Lynch movie or being pelted with Aunt Marge's deviled eggs drunkenly thrown at you from her back porch? When did she become such a sauce monster? Next time you certainly won't mention her rapid weight gain since the last time you saw her. Oh, wait… She just said she'd put you back in the will if you come over and cut the grass tomorrow.
K.L.
"Hermann's False Start"
Unsigned, but attributed to Hermann Rorschach, 1899
Day glow acrylic on canvas
This ambiguous design by the renowned Swiss psychiatrist and psychoanalyst was pulled from a Zurich garbage dump in 1900. It is a little known fact that H.R's earliest foray into serious psychoanalysis briefly took a strange and garish turn as he struggled to find his bearings in a highly controversial and contentious field still in its infancy. In this failed test using day glow colors H.R. has created what seems to be a friendly lighthouse wearing ear muffs; or possibly Dorothy's tin woodman, or maybe it's an erect and lethally pointed penis… I'm not sure, how do you feel about it?
K.L. and J.O.
"Edith's Blowout Performance"
Pops Poduka, 1975
Birdseye instant butterscotch pudding and red dye #5,
on self-adhesive shelf liner.
Edith Piaf is captive in another self-made drama it seems. Waking from a nightmare, she finds she is trapped in a Jean Renoir film set, of gigantic proportions. With calamari-like hands and rigid legs locked, she freezes in terror and shits her snow-white tights. Then, leaning hopefully toward her grandma's recipe box she frantically tries to figure out a way to climb in without bending her knees…. We're not asking for photo-realism here, Mr. Poduka, but a few more details added to your still life would have helped to drag this sorry mess out of the art gutter. Then I wouldn't have to make up ridiculous stories to give it some relevance.
K.L.
"Don't It Make My Blue Eyes Bleed"
Crystal Joyful, 2005
Acrylic, tacky shells, chain, collage on canvas
So full of symbolism, one hardly knows where to begin on this artistic exorcism of he/she angst. The uber mother's finger-like nipple points authoritatively at the tragic, bloody tears - shed as the drowning buxom mermaid is dying as she must, while the hunky man (lower left) is freed by the bird that flies away with his chains. The heavily mascared eye stares at us from beneath coquettishly cascading bangs imploring "Is it you? Is it you who will love me for who I am?"
K.L.
"Red Riding Hood, Rewritten"
C. lupus, 2002
Oil on canvas
Red, a member of PETA meets the wolf, thinly disguised as Jed Clampett in his short overalls. Using the secret sign, he whistles to Comrade Red, guiding her to his secret cell in the forest where they will conspire to escalate deadly counter attacks in an effort to prevent future wolf pogroms. Castle Palin looms in the background; the bridgeless, glacial stream portends nothing but doom.
K.L. and J.O.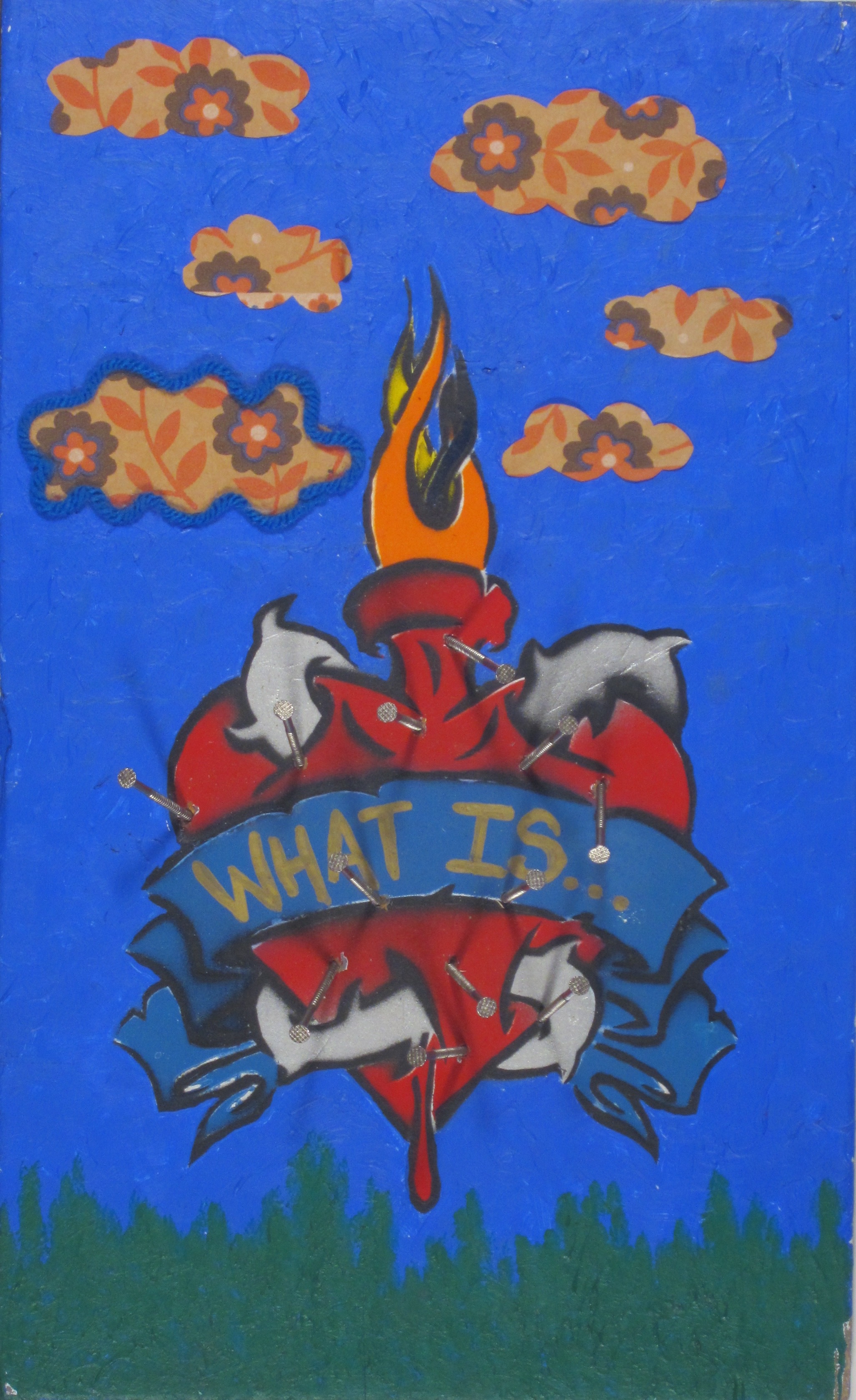 "What Is"
Chico Soalone, 1990
Acrylic on board, nails, yarn, contact shelf paper
The famous San Francisco Mission district mural and graffiti artist Soalone indulges in a rare small-scale piece in which he wallows in victimhood. This mini pity party expresses, in stylistic medieval symbolism, the pain of emotional despondency. Flames shoot violently from the top of the bleeding organ indicating a caldron of unsuppressed rage. O.K. Chico, so someone broke your heart. You probably drove her away with your bitching, moaning and complaining. Now, get over it, suck it up and stop whining! And don't waste good art supplies on melodramatic, self-indulgent heaving.
K.L.
"Why Fight For Freedom When You Can Vomit It?"
Xerxes Flannigan, 2002
Oil on canvas
This is another mystery painting whose meaning is left up to those masochists with enough patience to try to figure it out. Is the blind demon child projectile vomiting freedom or is the emotionless face with the "children of the corn" eyes revealing how the artist felt about him/herself? We'll never know. The unfinished quality of the work suggests that maybe it was just time to smoke some weed, eat a peanut butter and jelly sandwich and watch Star Trek reruns, because, "shit man, I've put enough time into this bullshit homework assignment." This is a masterpiece of combined self-indulgent teenage angst and boredom.
K.L.
"Love on the Rocks / Another Night on the Couch"
Fatbardh Fisnik, 1962
Graphite, India ink on paper
Barbie's been hitting the sauce again - experimenting this time with her special concoction of Vicks Nyquil, ayahuasca and vodka. Just for Ken she is wearing her new Fredericks of Hollywood bra. The hallucinations are well underway as the world's biggest transistor radio blasts out Jim Morrison's "Light My Fire". The music flows across the floor and slides up the walls. A spilled ink blob, like an ethereal specter, floats up in the corner waiting to smother any unsuspecting victim. Arriving home after a long day at the office Ken pauses, realizing he won't be having his sex change talk with her tonight.
K.L.