Gallery 5 Thumbnails
"Whoa There, Big Fella"
Emilio Marlee, 2010
Acrylic and Guldens Mustard on cardboard
In this early commission the artist Marlee, aka Mar-Mar to his devoted fans, rebelliously abandons consideration for perspective and ignores inconvenient shadowing issues. In contrast, the use of highly skilled brushwork in this portrayal of a quiet, barnyard has been said to surpass Claude Monet's early work. But look again, just how quiet is it? The red farm house with its alert ruby tipped chimney seems to lean away in apprehension as the barn's silo swells to its full height; The hidden pear (lower right) lurks voyeuristically waiting for the action to begin behind the darkened barred windows. Through symbolism and the crowded cramming of structures Marlee has depicted a barnyard scene that is both superficially calm and yet simultaneously vibrating with the sexual potency of rural fecundity.
J.O. and K.L.
"Aquarium Turf War"
Mike Nelson, 1961
Mashed power bait, peanut butter, and Nutella on canvas
This intimate view of an ecosystem in crisis is captured by the retired scuba diver/artist/aquariumologist Mike Nelson. In a phenomenon never before seen by human eyes Nelson shows us a sinister bid, by a herd of pregnant sea monkeys, to take over the world one aquarium at a time. They have arrived en masse, nearly bursting with millions of nauplius larvae to expel into their newly purloined province. The entrenched coral overlords respond to the challenge with rigidly alert posture as they prepare to defend their watery realm. Since leaving "Sea Hunt" and the bright lights of Hollywood behind, Nelson has made moves into the art world with his unique niche creations dedicated to fighting underwater aquarium crime.
K.L.
"Gardener's Purgatory"
Spiro Hidasquinax 2002
Acrylic on board
As in life, so in gardener's purgatory our grasping grower continues to suffer from tomato envy. Dissatisfaction and greed plague her as she simultaneously clutches her 200lb heirloom beauty while looking cravingly over her shoulder at the 1-ton behemoth, glowing seductively in the adjacent chamber. Why is she naked, you ask? In the great dark abyss of limbo, everyone is naked - naked, cold and longing.
K.L.
"God Bless Poppy"
Gwelda Huckabee and Friends, 1960
Black velvet, poodle fur
Gwelda Huckabee's happy hookers coffee klatch created this handcrafted treasure as an outpouring of their grief at the loss of Gwelda's bag-o-bones poodle Poppy. With expert attention given to detail, perspective and botanical accuracy, a more talented gathering of Iowan farm ladies could not be found. Hanging on little Poppy's grave in the pet cemetery for decades it was barely rescued from the destructive scoop of an earth grader preparing the land for a strip mall. Rumored that the grey yarn used in the piece was spun from Poppy's fur, on days when humidity is high the faint odor of doggie breath emanates from this touching farm town eulogy.
K.L.
"A Cheshire Cat of Nightmare Made"
Artist Unknown
Acrylic on canvas
"Imagination is the only weapon in the war against reality."
The Cheshire Cat from Lewis Carroll's"Alice in Wonderland"
"Voodoo Realism"
Artist Unknown, 2007
Acrylic on canvas
Don't worry dear viewer if this unsettling piece, like fingernails on a blackboard, sets your teeth on edge and your mind spinning in confusion. Our unknown artist, with undeniably advanced skill, having been on a trash pickup on the roadside of his mind, has thrown together the ideas he found there and unleashed them on an unsuspecting public. One unfortunate creature looks out at us with disgusted boredom as if to say, " Can you believe what this guy has done to us? We look like escapees from a gmo lab experiment gone badly awry!" We can't tell if they are fun loving sea lions frolicking in the tropical water or ears of corn ready to be roasted, smeared with butter, and sprinkled with salt, pepper and a squeeze of limejuice. And of course when an artist loses his way in the storey telling, it's always good to goose the viewer with a few time honored gratuitous sex symbols lurking like purple submarine pole dancers. This painting recalls an old art instructor's words of advice: "creating art and recreational drugs should not be mixed…ever."
K.L.
"In the Zone"
Teba Teebers, 1998
Dyed mango sauce on woven corn husks
In a time and place far away where palm trees sway against a light filled azure sky, tiny Carmen Mirandas twirl endlessly in quaintly cobbled plazas and the air is filled with the smell of roasting corn and Mariachi music. Cheerfully colored houses rise up behind them like stacked, 2 dimensional playing cards. Rod Serling appears offering you a long ruffled skirt and a pot of flowers for your head. Bidding you to put them on, he tells you that you will be staying for a while and that he hopes you like dancing…
K.L.
"Dracula Goes to the Office / What German Psychiatrists Do On the Weekend"
Cledwyn Clnifs, 1997
Crow quill, ink, and cheap paper
In this 1997 pen and ink attempt at death-obsessed self-analysis the Welsh artist Clnifs fails miserably. But what can you expect when you draw a posthumous self-portrait? Apparently resting after another hectic day at the office draining jugular veins, the Prince of Darkness ends up crammed in his crowded casket quietly twiddling his thumbs waiting for someone to close the damn lid. The artist, never having heard of ink washes, forces us to endure the scritchy-scratchy pen marks that are the visual equivalent of fingernails on a blackboard. As the casket floats on a hockey stick pool of black tar, we can only pray that, like the laBrea Tar Pits, it will take pity on us all and suck the poor creature down.
K.L.
"I Want to Pet the Rabbit George"
John Bickford Safety, 2004
Oil on board
Renowned self taught painter Bickford Safety's modern reimagining of the Steinbeck novel "Of Mice and Men" bleeds emotion and captures the striking smile of the devilishly handsome stranger in blue (George) and his slow witted bearded companion (Lenny). The artist has captured the carefree innocence of idiocy in the slack jaw and prominent forehead, while his dashing handler on the right exudes a dark mystery from eyes that seem to follow the viewer across the room. One can almost imagine the graying halfwit mouthing the words " Do I get to pet the rabbits now, George?"
Kevin Jones
"Saint Porcina / Ham Sandwiches at the Convent"
Artist too embarrassed to sign it
13"x3"x3", wrapping paper, particleboard, plastic, lacquer
This pathetic attempt at sculpture by an unknown El Greco wannabe has fallen comfortably within the camp of nightmarish. Set atop impossibly long legs the torso of an old man nun with a 5 o'clock shadow awkwardly clutches an unprotesting fat piglet that seems paralyzed with fear. Having covered the ancient plastic head with a filthy wimple our unknown artistic genius has given up on any attempt at realistic arms and hands. Instead he substitutes twists of paper in the shape of preying mantis like appendages. In a final fit of true inspiration our artist grabs the nearest bunch of discarded Christmas wrapping paper and swaddles the rest of the figure in a spiral of it, all thoughtfully coated with a clear lacquer finish to ensure years of viewing pleasure for the unsuspecting art loving public.
J.O. and K.L.
"Storm's a Comin' "
Artist unknown, 1980
Acrylic on board
Mt. St Helen has blown her top. The energetic blast, preceding the pyroclastic surge, has arrived. Churning and tossing, the river sweeps forward to claim the artist and her work. The forest is fucked. The artist is fucked. Covered with ash and mud, this tragic record of the artist's final vision was found face down in a Tacoma KFC parking lot. This landscape, as speed painting at its best, gives new meaning to "a la prima".
K.L.
"Hunting in Botswana"
Epsilon Chi Nu, 2000
Acrylic on board
We are so excited to have our first pointillist piece for our collection! Not since George Seurat and Paul Signac have we seen such masterly application of paint, which invites the viewer's eye and mind to blend the color spots into a fuller range of tones. On this small, but powerful canvas the conscious juxtaposing of red and yellow dots skillfully captures the life and death struggle between a 750lb wildebeest and a ferocious African lion. The herd escapes in the distance as more lions close in to make the kill. When not being viewed by throngs of Impressionist revivalists, the painting does double duty as a festive cheese grater for pasta nights or 20 grit sand paper, good for removing stubborn heel calluses.
K.L.
"The Blueness of it All"
Lordoma "Lordy" Lampkins, 2008
Acrylic on canvas
In this homage to Summer romance, Lampkins adorns the object of his affection with cocker spaniel tresses and blue…lots of blue. His lovely Nordic lass, on vacation in a warm, tropical paradise, is dressed like she's in Stockholm on a winter's day and crowned by a cranium that would embarrass an Australopithecus. But, blinded by love, Lordy is oblivious to this, as well as her facial scars and vacant stare, indicative of recent cheek augmentation surgery and a prefrontal lobotomy. The fluffy heart cloud with flying birdies arouses our warm fuzzies while the blurry transport plane conjures cargo cults.
K.L., J.O.
"The Sunset of Disillusionment"
Epsilon Chi Nu, 2001
Acrylic on board
See the artist as happy go lucky golden lab, squinting nervously, but bounding optimistically toward an accident waiting to happen. His love life/skunk walks unafraid in front of him. starting to raise its tail in warning. The blue lupines and lovely sunset signify unfulfilled expectations which will be dashed in one lightning quick potent expulsion. The end will be absolute, sudden and merciless. The lab will say, "It could have been so much fun, - chasing balls and peeing on bushes, but now I dwell in a world of yelping, shame and tomato juice baths."
K.L.
"Glory to God in the Highest Forever (Dio Nel piu Alto dei Cieli)"
Nonna Maria Delizioso, 2005
Velveeta Cheese product, Marshmallow Cream, and Dentyne gum on canvas
Before she passed away in 2005 Nonna Delizioso made one last attempt to express her devotion to God and Velveeta cheese product at once in this supremely tactile work of simplistic adoring beauty. Her faithfully meticulous daubing of a unique secret mixture of Dentyne gum and Marshmallow cream creates a dreamy effect as if a disembodied godhead were floating thru the aftermath of an explosion in a goose down pillow factory. By balancing a slice of cheese pizza skillfully on his head our Nonna has shown that God is not only resourceful in the face of adversity, but also compassionate as he looks for survivors to share his snack with. We are saddened at the thought of the disappearance of what was rumored to be her greatest work - a still life painting of a bowl of her homemade linguini covered with a melting of Cheez-Whiz… luscious, greasy and dripping with old world goodness.
K.L.
"Sun Rings in Ordino Valley"
Slarty Van Codrigton, 1957
Acrylic on canvas
The artist grew up in Amsterdam and moved to Andorra in his early 20's. Here, according to the local postman who regularly made the trek to his hilltop aerie with vital supplies, Van Codrigton would paint whilst in the grip of powerful hallucinogens. During their frequent sangria evenings, he explained his creative process. After a debilitating stroke, he would grip the brushes in his teeth - hence the anarchic sky that is repeated many times to great effect; the use of his right hand would be reserved for finer work. Urging his children never to start the day with a curse, the smiley-faced moon is indicative of his unbridled optimism, while the dashes surrounding the stars are a nod to an infatuation with mathematics and the Fibonacci sequence. "Sun Rings" was also the name of a recording by the Kronos Quartet commissioned by NASA to incorporate sounds from outer space.
Smedly Codrigton
"Foie Gras Escapees"
Cut Eye Foster, 2010
Acrylic on Canvas
The American expat artist Foster in this romantic night scene of Parisian lights on water contrasts the Eiffel tower and its reflection to the horrifying reality of 3 French ducks narrowly escaping the cruel tradition of gavage. The Y shaped shadow on the lake represents the feeding tube used to force feed the little duckies and the quivering light poles represents centuries old French law being challenged by animal lovers everywhere. The canvas is filled with light – light which challenges the darkness of an archaic tradition.
K.L.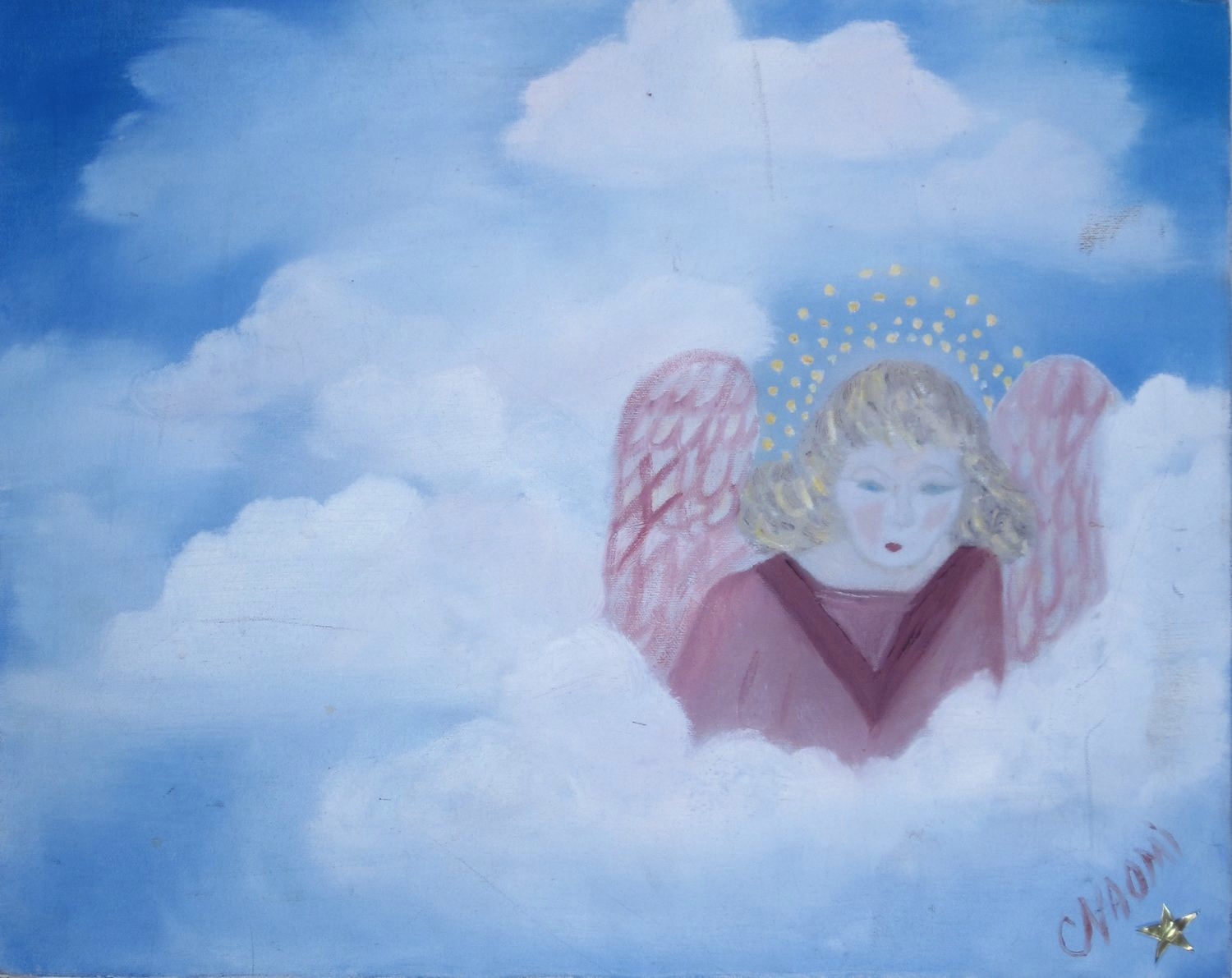 "Soft, Soft, So Soft"
Naomi Pupster 1966
Acrylic on canvas
Pupster revisits her most common narrative that springs from a reoccurring dream of angelic observations from on high. In this ever-so-soft and quiet piece – some might say vapid and pointless, she is alone in heaven and spying (never a good idea) down on her earthbound boyfriend; the pursed lips reveal a certain displeasure at her discovery. Actually, we had to dig deep to harvest some meaning from this insipid bit of pastel fluff. To be perfectly honest, the decently rendered clouds are the only reason we rescued this one. It has been honored with a gold star for being the most snoringly boring piece in the collection.
K.L.
"The Wages of Sin"
Emm Fe, 1990
Acrylic and black sharpie on canvas
Every art collection needs at least one good seduction, addiction, and death piece - and we have found an outstanding one here. Intent on saving our soul, the artist Emm Fe has attacked the canvas with such fervor that she leaves not one bit of space without a paranoid neurotic scribble. The message: Beware of Las Vegas, where you will be set upon by tequila swilling skeletons, flipped off by half naked buxom showgirls, and tempted to stuff your mouth with psychedelic mushrooms - all of this while lovingly holding a razor sharp snickersnee in one hand and an erect microphone in the other. And…oh yes, watch out for the giant pythons that swarm the streets of that wicked town just waiting to finish the job if the booze, babes and drugs don't get you first.
K.L.
"Redful Relax"
Yaloosey Warmutt, 1950
Acrylic paint and a Spoon Shaped Object on Canvas
This seminal work by the American abstract expressionist Warmutt rocked the American West Coast art world upon its initial unveiling at the Modesto Salon of 1950. lt is believed that the innovative application of gooey cadmium red paint combined with the use of interpretive earphones produces an alpha meditative state in mesmerized viewers. These people, known as "art zombies", can be seen wherever this painting is shown. In a zoned out state of confused numbness they refuse to go home, but instead pile up in the gallery ignoring the grouchy guards and creating monumental traffic flow problems. This phenomenon was finally solved by installing trap doors in the floor, which dumped hundreds of stunned patrons onto mattresses in the museum basement. Art curators the world over agree that this one painting alone has revolutionized the way museums handle crowd control.
K.L.
"Cry the Glaciers Going"
Muktuk the Eskimo, 1986
Melted Walrus blubber, ground permafrost on caribou hide
In this lovely painting with strong environmental underpinnings, ghostly northern lights shimmer on frozen slopes of despair, which slant at impossible angles. Our artist Muktuk has produced a frigidly beautiful work of Eskimo existentialism. Using ancient techniques of whale baleen brushes and squeegees he appeals to the viewers' sense of selfless earth consciousness. We see the sweeping gestures of hopeless resignation and feel his despair for his disappearing homeland. And we ask, "are the tree–like structures the dried remnants of dead dreams long since perished on this hostile landscape?" Or maybe he was just trying to use that last bit of brown paint on his pallet.
K.L.
"Femsnake Killing the He/She"
Artist Unknown, aprox. 2002
India ink on paper
Disturbing is all we can say about this one. It was lifted from the trashcan of an art therapy class at the women's' state penitentiary in Chowchilla California. Our team of consulting psychiatrists agrees that this artist suffers from the dreaded hugger-mugger syndrome characterized by suppressed rage and preoccupation with Andy Warhol fantasies. Murderous intent glares from the femsnake's left eye and the forked tongue threatens to give you a good lickin' if you get too close.
K.L.
"Awaiting the Return / Snack Time in Toledo"
Arlene Smokler
Canvas, watercolors, Burt's Bees lip balm
Jesus, upon his crucifixion, swore he'd return to walk the earth again. Two millennia later, an androgynous senior citizen waits patiently for the Nazarene to fulfill his promise. His/her edges are blurred to signify the grace which radiates from the most loyal of Christ's followers. The red polka dot sofa sprouts spectral wings, symbolizing Jesus' ascension to heaven all those years ago. And the uneaten, oversized Bugle snack treat, literally dripping with tasty goodness, represents the hunger for answers that burns inside the faithful.
Spencer Bainbridge
"Puddles and Jumbo Haiku"
Artist Unknown, 1983
Oils on artist canvas panel
Clown rides elephant.
See giant condom waiting.
Perfume will smell good.
K.L.
"Lord of the Dance"
Dan Crocke, 1985
Acrylic on canvas
The blue tetrapods known as Tiktaalik compete for scarce resources with early arthropods, magnolia flowers and protoboccoli heads. This 95 million year old primeval struggle takes place while being bombarded by high concentrations of neutrinos. The red tower stands unmoved and unaffected. It is the Last Universal Ancestor observing all developments without fear or judgment.
K.L.
"Adorable Dumbo"
Jane Justice Smith, 1990
Polyester yarn on canvas
We applaud this charming little piece woven so meticulously and snugly tucked into its festive yellow frame! It faithfully carries on the time-honored tradition we humans uphold of turning wild animals into loveable, cuddly creatures. This miniature pachyderm joins its brothers, the grizzly cubs, baby pandas, koala bears, sea otters, lion and tiger cubs as well as ducklings and wolf pups in a long line of animals we just love to love. We give it a "10" on the luvbug meter and bonus points for the sturdy polyester yarn used in its creation - a yarn that will last long past the time when the only elephants alive will be those in zoos. How fortunate we are to have these adorable images to remember them by!
K.L.
"Dracula Spills His Snack"
Baduna Draguta, 1945
Flask on Goat Skin
K.L.
"Red Hibiscus Says Yes, Oh, Yes!"
Alabaster Buttix, 1995
Acrylic on board
Pinned down by the large green leaves, the red fleshy flower is not going anywhere, even if it wanted to. But escape is the last thing on its mind. Its luscious petals are spread open wide, and submissive to the white turgid tower tipped with fuzzy golden hairs and purple ticklers. This piece is compositionally rock solid, and enticingly erotic as it balances deliciously on the edge of obscene. We leave this painting in search of a quiet corner to resolve our heightened sensitivities.
K.L.
"Pondering a Movement"
Ron, 1964
Acrylic on board
Let's face it. Being human means occasionally having your intestines freeze up. You try drinking lots of water and maybe a bunch of prunes and finally you get desperate and take a little pill to get it all moving again. And while you wait for the pill to take effect you decide to get naked and do a little introspection. And wouldn't you know it, once you start your soul-searching, all your subtle energetic anatomy fields get activated, start to zap and glow all over your body and of course this attracts attention especially when you do it on a rock, at night, in your front yard. A passerby snaps a picture before he calls the police, but we're glad he did because now we have indisputable proof that subtle energetic anatomy fields actually exist and a lovely painting to illustrate them. We're guessing the laxative went to work around the time our obstructed sophist was being booked at the police station.
K.L.