Gallery B Thumbnails
"El Poodle Coloso"
Francisco Goyable, 2001
Dyed Balm of Gilead on Santana's pergamino
A sanguine sun glowers from a cloud shredded sky as the giant poodle dog of war ominously stalks the land. Escaping from the groomer's where he was muzzled, anal glands expressed, and humiliated with the latest "bikini clip", he seeks to wreck revenge. And so, with slobbering maw he drags sunbathers screaming from their cabanas and methodically devours their fat, greasy bodies. Then, after flooding the quavering palm trees with streams of hot yellow urine, he squats repeatedly, covering the cabanas with piles of excrement. Oh, what a bad dog he is – BAD DOG!
K.L.
"Housebound Blues"
Artist unknown, ca 2001
Acrylic on canvas
Our feline friend contemplates his next move: "Shall I bite the flowers off and bat them around the house until I'm bored, knock the pot over and spread the soil around the floor, or mark my territory on the side of it? But what do you expect from a consummate predator who has been neutered, declawed, kept inside his entire life, "entertained" with bird videos and then fed disgusting corn based food from a 50lb Costco bag? On top of that, they call me 'Fizzy.' Wouldn't yoube a little sullen too, once in a while?"
K.L.
"Owl With a Pearl Necklace"
Grant Sanstake, 1992
Oil on masonite
Symbols of wisdom, owls are birds that hear and see everything in the darkest of night. This one hesitates in confusion, wondering how his hunting has resulted not in a squeaking rodent, but a string of pearls - and his tree nest cavity has turned into an old fashioned gramophone. This painting reminds us that things are not always what they seem, and sometimes the rules can change quickly without warning. The bird asks us for an explanation, but we have none - because we know all too well that this stinking world of ours is full of lies, deceptions and nasty shit that just blindsides us when we are least expecting it.
K.L.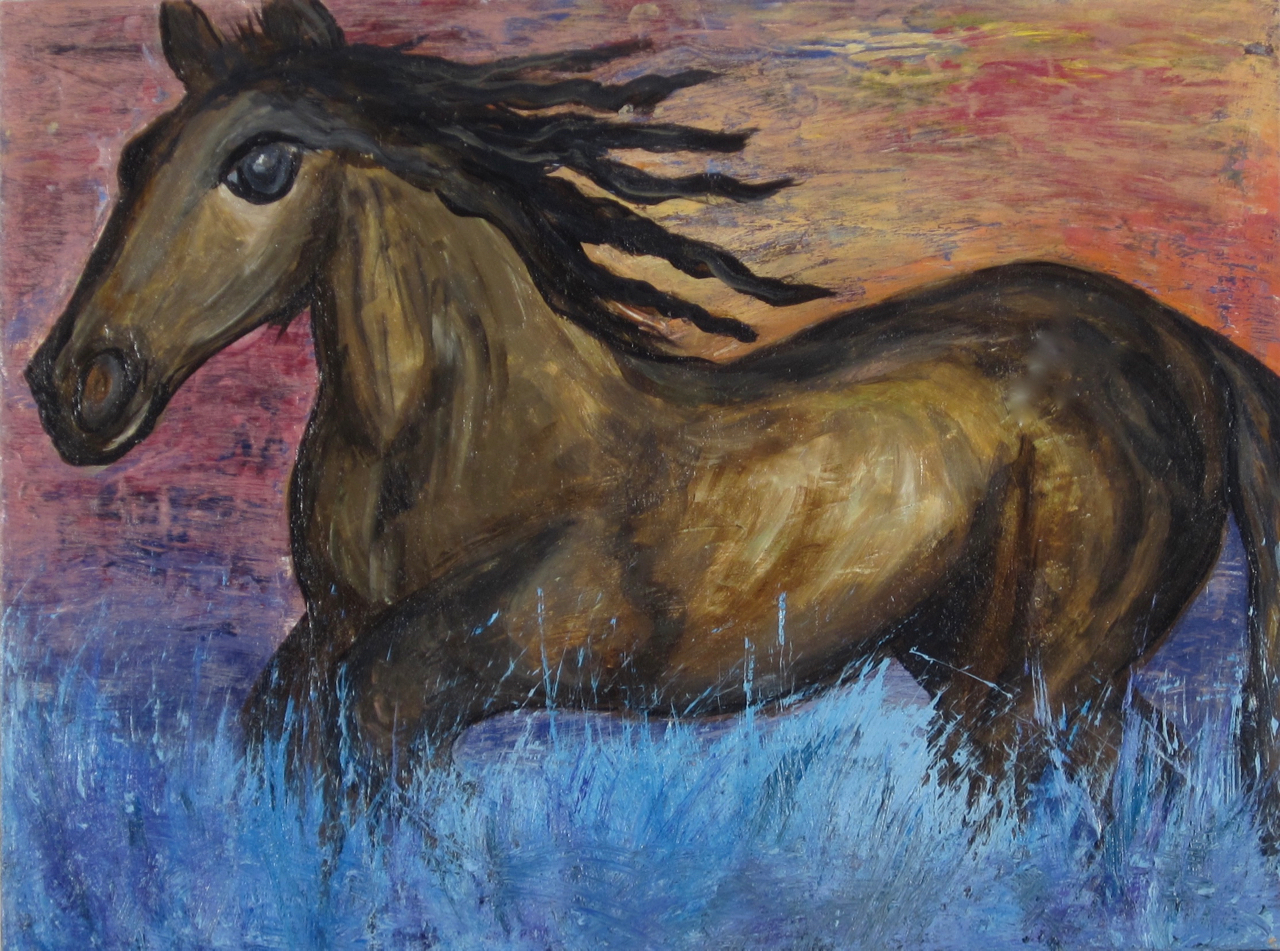 "Palomino Splish-Splash"
Timothy Manwich
Cruelty-free chalk on paper
Timothy Manwich, born 1964 in New Mexico, has spent his entire career painting scenes inspired by the American Southwest of his youth. This piece, he once explained to Bolo Tie Aficionado magazine, came to him in a dream: "I was walking alone and glimpsed the most beautiful wild mare I had ever seen. She beckoned to me as she frolicked in what was either blue grass or very grassy water, it was hard to tell, dreams are weird like that." Manwich's upbringing gave him a unique perspective on this subject and the New Mexican terrain, and he can recommend a really good place to get empanadas.
Spencer Bainbridge, Art Historialogian
"L Stands For Loser"
Jonathan Kwilip, 2001
Acrylic on canvas
This painting practically screams, " I am such a loser!" Everything about it is pathetic: the cheap little bunch of wilted wildflowers, the self pitying, plaintively carved heart on the tree, and the half-assed attempt at rendering its leafy crown. No wonder she stood him up. I mean, what kind of guy meets his ladylove out in the middle of nowhere so he can push her back and forth on a swing? He's probably too cheap to take her on a realdate and spend realmoney - or he's a serial murderer and her decomposing body is pushing up daisies in those pretty green hills.
K.L.
"Marine Crinkle Cuts"
O.O. Ehrenfurt, 1950
Acrylic on canvas
It's remarkableto find a special painting that immediately transports us to the dazzling beauty of a tropical paradise – warm gentle breezes, white sands and an abundance of life, living in a light filled turquoise sea. This is not that painting.
K.L.
"Let Sleeping Aliens Lie"
Angina Heartfelt, 2017
Supernaculum satang washes on anagogic veneers of rare vitamer planking
To view this piece is to witness the exhumation of a horrific memory of alien abduction and a life changing experience that followed. From the depths of Heartfelt's subconscious, it was dredged while she was voluntarily hypnotized in front of 100 wildly drunken gamblers at a local casino. The tractor beam about to atomize her up into the ship, we see her at the exact moment of first contact. And as aliens prefer their subjects, she is naked and vulnerable; the soul departs, knowing that its earthly body will soon be inoperative after being zapped, probed, and dissected. The artist has obligingly ripped out her own heart in hopes of gaining her captors' mercy. In spite of this exactrendition of the actual events as they occurred, the SETI Institute has oddly ignored any contact with our artist, but the casino has magnanimously expressed interest in exhibiting her vivisection scars.
K.L.
"Organ Concert Cancelled"
Francis Leonides, 2007
Oil on canvas
It's safe to say this diminished Davide is not going to turn our heads or flood our basements…right, ladies? I mean, what self respecting hetero woman would look twice at a guy in tight mocha shorts with a perpetual frown, purse lipped pout and a missing baloney pony - and then there's the shriveled ankles, tiny feet and his four fingered hands. The only thing that's hot about this work is the obsessively painted chili peppers lined up in rows on the bedspread. But, lest we be excessively critical, we take note of the skillfully painted red apple - complete with bug marks, and the heart stopping tension created by a sassy little green pear precariously balanced on the edge of a levitating cup.
K.L.
"Albino Hair Dryers Threaten Falling Window With Basil Leaf"
Omar Sharif Biscocho Murray
Shmear on waxed cardboard
It is a well-known fact that all errant windows that have the effrontery to go wandering, can be made to behave by shaking a basil leaf at them.
K.L.
"Spock's Spawn"
Tarpentina Dunker, 2006
Acrylic on canvas
The product of Spock's feverish Vulcan rutting on planet Omicron Ceti lll, this pretty little lass patiently waits for her deadbeat dad to return from his gallivanting around the universe. Droopy wings reveal melancholy, but her plump, botoxed lips and even plumper boobies foretell a promising future on the Victoria Secret runway.
K.L.
"Gonna Cut You"
Jeremy "Jimbo" Marks, 1992
Catching the astute eye of local art critics and Chicago PD alike, renowned street-artist Jimbo Marks leapt onto the Chicago art scene with his seminal "Snitches Get Stitches" and follow-up piece "Stitches (I meant It)" After numerous successful pieces ("So Angry", "Two/Too Loud Voices", "Can't Help It", "Trusty Bladed Retribution") being ingeniously displayed around the city walls, storefronts, and bus interiors, Jimbo Marks' identity was finally revealed to the Public (Docket#1991-L-10789). In this piece, "Gonna Cut You," produced while on parole, Marks invites us to question who is "you"? Is this a painting of someone who will be cut, or someone who will do the cutting? Only recently has it been discovered that this is actually a portrait of his estranged paramour Leslie Hall Turner.
Philo Z. Carruthers, Artistorian
"Pietro's Dream"
Pietro Mingo, 1988
Travel magazine photos, rocks and shells and oodles and oodles of gold paint on beach mat.
In a shocking and unheard of display of god-like power, Cookie Monster parts the waters of the Mediterranean and descends on the Amalfi coast looking for fresh biscotti.
K.L.
Untitled
Artist Unknown ca. 1866
Watercolor on paper
This piece is the much talked about, but never seen, lost cover art for Louisa May Alcott's first novella, "Little Nude Women." Always ahead of her time, we see Ms. Alcott conjuring from a magic jar inscribed with neo pagan symbols, a lost tribe of tiny Amazon warriors. These, her draft notes describe, would be unleashed on unsuspecting Confederate soldiers. Her publisher encouraged her to rewrite the story for a different audience - one inclined to baking Christmas cookies, wearing corsets and happy endings.
K.L.
"Drunk Baby"
Grace Clutter, 2006
Acrylic on canvas
There is nothing more saccharine than a lovingly rendered portrait of the first grandchild. Clutter's one bristle brush approach to painting eyebrows and lashes reveals a grandmother's obsession with the little darling's adorable details. She is pink and pudgy and lacy and those fat little feet look good enough to deep fry in a beer batter. But let's be honest here - she got the little nipper trashed and painted her collapsed in a drunken stupor.
K.L.
"This Shit's About to Get Real"
Breonna Beulah Blake, 2014
A glaze of Jungle sourced crimson lorises, applied with antique Aeolian brushes on canvas
The artist Blake has skillfully chosen foreboding cadmium red for his ground and in doing so has created an undeniable tension while suggesting violence and butchery. We see on a bright Sunday morning a young couple facing an important decision. Ignoring their religious duties (they will be punished for this) they have opted instead to go nude sailing. But a green swimmer has chosen this moment to drown and they resentfully consider whether to rescue him. Behind them, a zombie apocalypse is brewing. One newly buried corpse begins to thrash wildly while another does core strengthening sit-ups. A voracious demon dog closes in on the unsuspecting couple as the indifferent eye of God observes the unfolding drama. (It seems that even God is afraid of zombies.)
K.L.
"When Trees Were Hands"
Mushy Castro, 1998
Tetragenic exudate collected from an enlarged tragus applied with kyphotic vigor to an immaculate canvas
Dear viewer - behold the last surviving Grabber Tree. Our brave and skilled artist Mushy Castro risked life and limb while attempting to document its last hours of life. These forest wonders were known for their seductively perfumed fruit, but terrifyingly vicious behavior. The artist has sensitively captured the likeness of its muscular, finger-like branches poised to grab and squeeze the life out of any unsuspecting passerby, and then liquefy and absorb the flesh from their bones. This solitary specimen seems ready to defend itself from the stick of dynamite that will take it down the next day.
K.L.
"Blackheads and Fake Eyelashes"
Sylvia Dickenson, 2002
Dickinson is a shut-in somewhere in the United States. Clues in her work hint to a life in the southern part of a Northern-Midwest state east of the Dakotas. Dickenson mostly painted her friend Mary Lawrence, a parrot linguistic coach. On the date of this painting, Mary had ingested psilocybin mushrooms and was doing a shadow puppet revue of "A Chorus Line". Dickenson took advantage of the musical fixation, capturing the dilated pupil of her chemically altered friend. Ever the perfectionist, Sylvia counted the blackheads hiding amongst Lawrence's freckles and flawlessly reproduced the pattern. Dickenson unfortunately missed an opportunity to complete the Little Dipper of pimples across her subject's nose as she started the painting a little too far over. This was at the peak of what most critics consider her "violating personal space" period.
Jasper Cotto, Artistologist
"Disruption In the Space Time Continuum"
John Moonbiffy, 1993
Self actualized nausea, partially digested chicken, creamed spinach mixed with ipecac on bathroom tiles
Drowning in the stomach's churning sea,
Woeful eyes full of regret -
He marinated chicken at room temperature.
Convulsing, it expels a hot acid rush.
The porcelain goddess is his friend.
K.L.